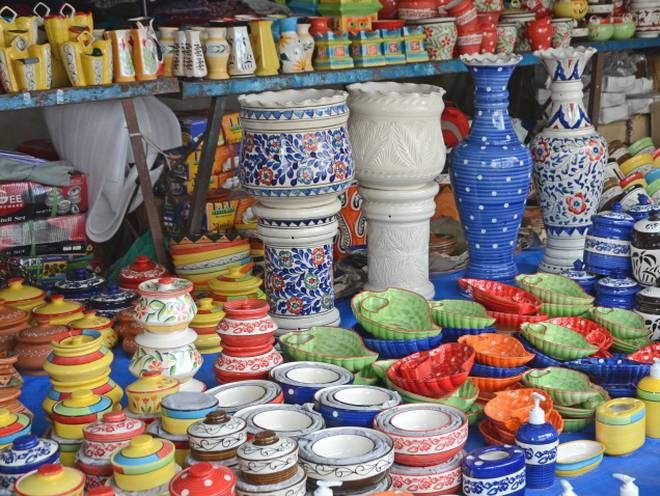 Ceramic pots from Khurja: A perfect blend of artistry and functionality
Introduction:
The town of Khurja, located in the Bulandshahr district of Uttar Pradesh, India, is renowned for its rich ceramic heritage. For centuries, the skilled artisans of Khurja have been creating exquisite ceramic pots that are not only aesthetically pleasing but also highly functional. These ceramic pots from Khurja showcase the perfect blend of artistry, craftsmanship, and utilitarian design, making them a popular choice for both interior and exterior decor. 
Historical Significance:
The tradition of pottery making in Khurja dates back to the 14th century during the reign of Firuz Shah Tughlaq. It is believed that the potters from Multan, present-day Pakistan, migrated to Khurja and brought with them their expertise in ceramics. Over time, Khurja developed its unique style and techniques, influenced by Persian, Mughal, and local Indian aesthetics. The town's ceramics industry flourished under the patronage of the Mughal emperors and later gained popularity throughout India. 
Artistry and Design:
Ceramic pots from Khurja are celebrated for their intricate designs, vibrant colors, and fine craftsmanship. Skilled artisans meticulously handcraft each pot, paying attention to every detail. Traditional motifs, such as floral patterns, geometric designs, and intricate hand-painted artwork, adorn the surfaces of these pots. The vibrant color palette used, including shades of blue, green, yellow, and red, adds a touch of vibrancy to any space. 
Materials and Techniques:
The pottery in Khurja primarily involves the use of high-quality clay sourced from nearby areas, ensuring the durability and longevity of the ceramic pots. The artisans employ various techniques like wheel-throwing, hand-molding, and slip casting to shape the pots. After the initial shaping, the pots are left to dry before being fired in kilns at high temperatures. This firing process ensures that the pots become sturdy and resistant to water and weather elements. 
Functionality and Versatility:
Ceramic pots from Khurja are highly versatile and find extensive use both indoors and outdoors. Their robust construction makes them ideal for planting a variety of plants, including flowers, herbs, and small shrubs. The porous nature of ceramic allows for proper air circulation and moisture retention, providing an ideal environment for plant growth. Additionally, the pots' aesthetic appeal enhances the beauty of gardens, balconies, and patios, adding a touch of elegance to any outdoor space. 
Popularity and Economic Importance:
The ceramic pots from Khurja have gained popularity not only in India but also internationally. Their exquisite craftsmanship and artistic value make them sought-after collectibles and decorative items. The pottery industry in Khurja has also contributed significantly to the local economy, providing employment opportunities to a large number of artisans and supporting the town's overall growth.
Preservation of Traditional Craftsmanship:
In recent years, efforts have been made to preserve and promote the traditional art of ceramic pottery in Khurja. Government initiatives, NGOs, and local organizations have taken steps to provide training and support to young artisans, ensuring the continuation of this age-old craft. These initiatives have also helped in creating awareness about the cultural and historical significance of Khurja's ceramic heritage. 
Conclusion:
Ceramic pots from Khurja are more than just vessels for plants; they are the embodiment of artistry, cultural heritage, and skilled craftsmanship. Their exquisite designs, vibrant colors, and functional qualities make them an essential element of interior and exterior decor. The legacy of Khurja's ceramic pottery continues to thrive, thanks to the dedication and passion of the artisans who strive to preserve this traditional craft. By embracing ceramic pots from Khurja